I have read an article about what is a full-stack designer, which referred to the so-called full-stack designer who is able to build wireframes, prototypes, make visual drafts, and coding. Put it into the product design process, that kind of people is an unicorn who can handle everything. Whereas, one of the most primitive and most critical step is the wireframe or prototype design. The importance of prototyping design is equivalent to the solid foundation of the superstructure. Then the tools to build the foundation is very important.
So, it's worthy for designers to considering how many prototyping tools are available in the market, and how to choose a right prototyping tool.
How many popular prototyping tools are available?
So many prototyping tools for designer's choice, but the novice designers are much more than the tools. They usually don't know how many tools are available for choice, and even don't know how to make a right choice. Some people told them, Axure is a good software. So, they use Axure. However, I think, they should make an analysis on the mockup & wireframing design tools & Apps for UI/UX designers and make a right choice. Axure is not very proper to get started for beginners, there are more choices other than it. Then, what are the commonly used prototyping tools besides Axure? Let'shave a look.
Put aside the influence of Axure, the veteran prototyping tools, the most popular prototyping tool in China is Mockplus. From the initial lightweight online version to the full-featured desktop version at present, Mockplus gradually developed and expanded its features to become a powerful prototyping software. With the extensive pre-designed interactive components (200) and a huge library of icons (3,000), it's easy and fast to create an interactive prototype in 3 seconds.The recently launched Mockplus3.0 version with team collaboration function is a highlight. The sophisticated collaborative design, online review, and page division editing, that all greatly enhance the team efficiency and reduces communication costs.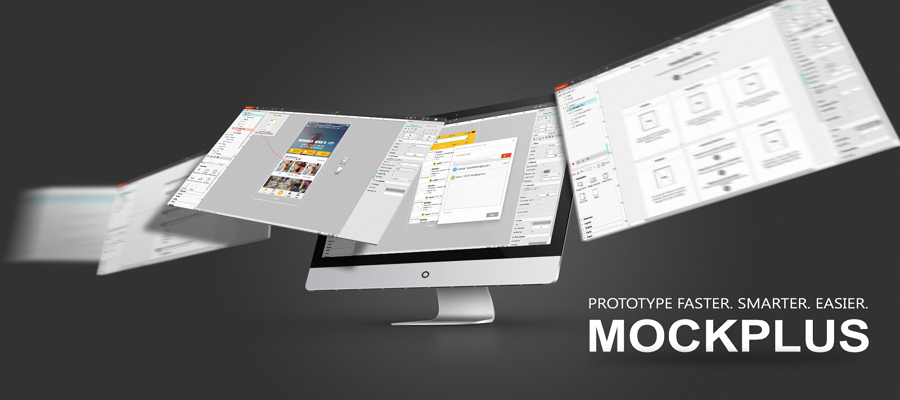 2. Justinmind
As a novice, you must admire the designers who can create the elaborate high fidelity prototypes. Moreover, you will know that's made by Justinmind. Some designers are pursuing the delicate details on rich interaction effects and gestures supported on the mobile APPs by the software. But you can't ignore the huge time cost and effort spent behind the high fidelity prototype. So it's not a good choice for beginners.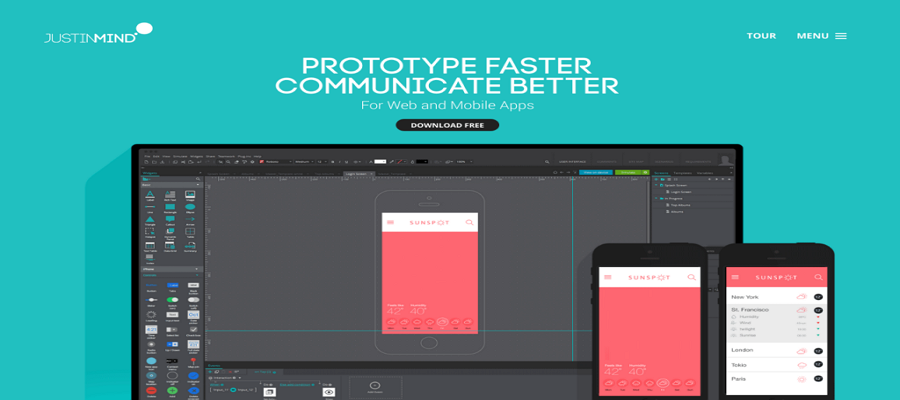 3. Invision
Strictly speaking, Invision has a great difference with the prototyping tools mentioned above. Its role is to add jump links on well-designed visual scripts and generate online prototypes.
How to choose a right prototyping tool?
For me, I think a right prototyping tool should be with the following features:
1. Low learning curves and low prototyping costs;
2. Supported for previewing on mobile devices at anywhere and anytime;
3. Effective re-use component library;
4. Support to generate a flow chart;
5. Online collaboration for multiple team members;
6. Gesture operation, transition animation, interactive effects … (I think it's not necessary for the prototyping stage).
These prototyping tools and experience on software choosing are summed up by many product designers for years. It's no doubt that there are not only Mockplus and Axure for the first choice, and the standards to choose tools to vary from person to person. Anyway, the most important are that the tool is more easy to use, the better