At the beginning of every year, we like to read through some of the major reports on inbound marketing, content marketing, social media, and online behavior.
At the risk of sounding like a broken record, it's honestly amazing how fast things can change in twelve short months — and 2015 was certainly no exception.
This past year, we've seen the importance of visual content emphasized by the changes that occurred across almost every major social network, including Facebook, Twitter, Instagram, and Pinterest. At the same time, both video and infographics have become powerful tools for brands looking to communicate more easily with their readers.
To help you keep pace with these trends, let's take a look at some statistics that demonstrate the impact visual content has on reach, engagement, and sales.
37 Stats You Should Know About Visual Content Marketing in 2016
General Visual Content Stats
1) Researchers found that colored visuals increase people's willingness to read a piece of content by 80%. Tweet this stat! (Source)
2) When people hear information, they're likely to remember only 10% of that information three days later. However, if a relevant image is paired with that same information, people retained 65% of the information three days later. Tweet this stat! (Source)
3) 46% of marketers say photography is critical to their current marketing and storytelling strategies. Tweet this stat! (Source)
Image Credit: CMO Council
4) 34% of marketers selected visual assets as their most important content, behind blogging (45%) and before videos (19%). Tweet this stat! (Source)
5) 65% of senior marketing executives believe that visual assets (photos, video, illustrations and infographics) are core to how their brand story is communicated. Tweet this stat! (Source)
6) Content with relevant images gets 94% more views than content without relevant images. Tweet this stat! (Source)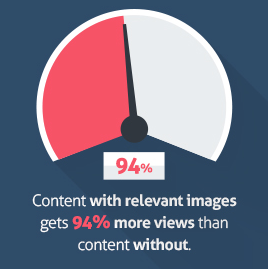 Image Credit: QuickSprout




7) Only 27% of marketers have a process in place to aggregate, organize, and manage the visual assets being used across their marketing teams.Tweet this stat! (Source)
8) 39% of marketers believe that more of their budget should be allocated to the acquisition or creation of compelling visual assets. Tweet this stat!(Source)
9) 73% of content creators plan to prioritize creating more engaging content in 2016, and 55% plan to prioritize creating visual content. Tweet this stat! (Source)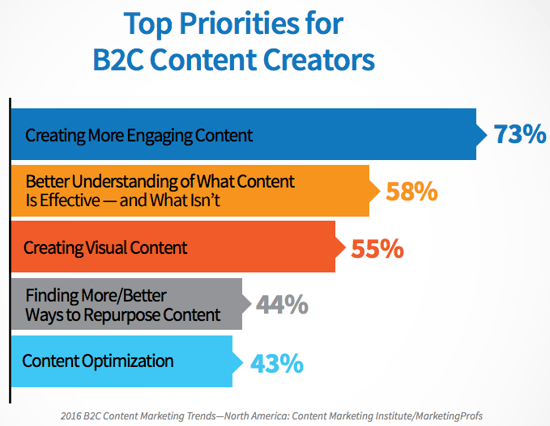 Image Credit: Content Marketing Institute
Video Stats
10) 51.9% of marketing professionals worldwide name video as the type of content with the best ROI. Tweet this stat! (Source)
11) Shoppers who view video are 1.81X more likely to purchase than non-viewers. Tweet this stat! (Source)
12) Using the word "video" in an email subject line boosts open rates by 19%, click-through rates by 65% and reduces unsubscribes by 26%. Tweet this stat! (Source)
13) Midway through 2015, mobile video plays exceeded 44% — up 74% from 2014 and up a whopping 844% since 2012. Tweet this stat! (Source)
Image Credit: Ooyala
14) Between April 2015 and November 2015, the amount of average daily video views on Facebook doubled from 4 billion video views per day to 8 billion. Tweet this stat! (Source)
15) In July 2015, Periscope users were watching 40 years' worth of videos every day. Tweet this stat! (Source)
Image Credit: FastCompany
16) In Q2 of 2015, mobile phones (34%) and tablets (15%) combined for 49% of video ad impressions — up from 38% in Q1 of 2015. Publishers saw PC impressions drop from 62% to 50% in the previous quarter. Tweet this stat!(Source)
17) Syndacast predicts 74% of all internet traffic in 2017 will be video. Tweet this stat! (Source)
Image Credit: Syndacast
Infographic Stats
18) Eye-tracking studies show internet readers pay close attention to information-carrying images. In fact, when the images are relevant, readers spend more time looking at the images than they do reading text on the page. Tweet this stat! (Source)
19) Infographics are Liked and shared on social media 3X more than other any other type of content. Tweet this stat! (Source)

20) Infographics were the B2B content marketing tactic with the biggest increase from 2014 to 2015, up from 51% to 62%. Tweet this stat! (Source)
21) People following directions with text and illustrations do 323% better than people following directions without illustrations. Tweet this stat!(Source)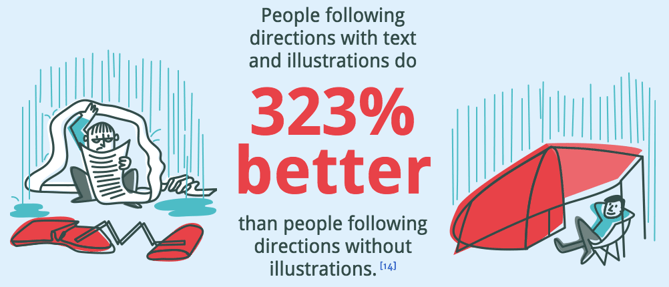 Image Credit: NeoMam
22) 60% of marketers predict the use of infographics will increase in 2016 compared to 2015. Tweet this stat! (Source)
Image Credit: CMO Council
Social Media Stats
23) Visual content is more than 40X more likely to get shared on social media than other types of content. Tweet this stat! (Source)
24) Articles with an image once every 75-100 words got double the number of social shares than articles with fewer images. Tweet this stat!(Source)
25) 71% of online marketers use visual assets in their social media marketing. Tweet this stat! (Source)
26) B2C marketers place more importance on visual content than B2B marketers — and a whopping 40% of B2C marketers say visual content is the most important type of content. Tweet this stat! (Source)
27) Facebook posts with images see 2.3X more engagement than those without images. Tweet this stat! (Source)
Image Credit: BuzzSumo
28) Buffer reported that for its user base, tweets with images received 150% more retweets than tweets without images. Tweet this stat! (Source)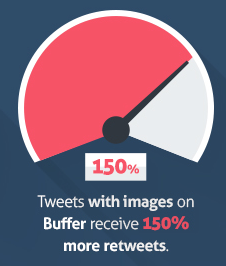 Image Credit: QuickSprout
29) The Instagram community has grown to more than 400 million as of September 2015. Tweet this stat! (Source)
30) On Instagram, photos showing faces get 38% more Likes than photos not showing faces. Tweet this stat! (Source)
31) Organic engagement on Facebook more than doubled in 2015, while organic engagement on Instagram almost halved. Tweet this stat! (Source)
Image Credit: Forrester Research
32) 52% of teens use Instagram, and nearly as many (41%) use Snapchat.Tweet this stat! (Source)
Image Credit: Pew Research Center
33) Snapchat has 100 million daily users, 65% of whom upload photos using the app. Tweet this stat! (Source)
34) Women continue to dominate Pinterest: 44% of online women use Pinterest compared with 16% of online men. Tweet this stat! (Source)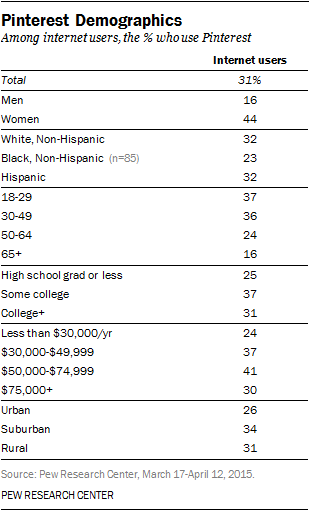 Image Credit: Pew Research Center
35) Shopify users referred by Pinterest spend an average of $80 compared to the Facebook referral average of $40. Tweet this stat! (Source)
36) Pins on Pinterest have viral potential: Over 80% of pins are re-pins compared to 1.4% of tweets retweeted. Tweet this stat! (Source)
37) 88% of consumers have purchased a product they pinned, and 49% have purchased 5 or more products they've pinned. Tweet this stat!(Source)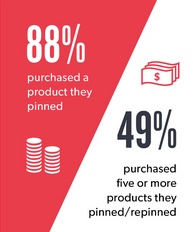 Image Credit: Jeff Bullas
Source Hubspot